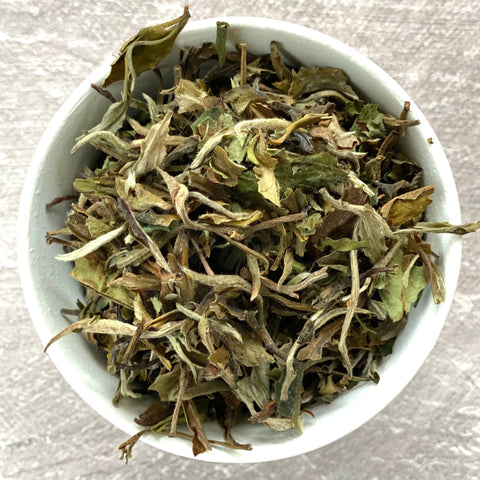 Pai Mu Tan (Bai Mu Dan) White Peony
Pai Mu Tan, known as White Peony due to its large white downy leaves, is made from a mixture of both the new buds and whole leaves which gives the tea a fuller flavour than white tea made from only buds.  
It comes from the Zheng He plantations in the province of Fujian, where it is withered on bamboo racks for between 12 and 24 hours before sorting.  This tea has minimal processing with no rubbing or frying, making it one of the most natural teas available. It has a large proportion of downy tips and full leaves. 
The tea has a pale yellow liquor with a delicate flowery and honey aroma and a sweet and mellow taste.
Use 2-3g at 75-80c for 5min infusion  
(this tea can also be infused upto 3 times if infused for approx 1 minute)
Tasting and Cupping notes