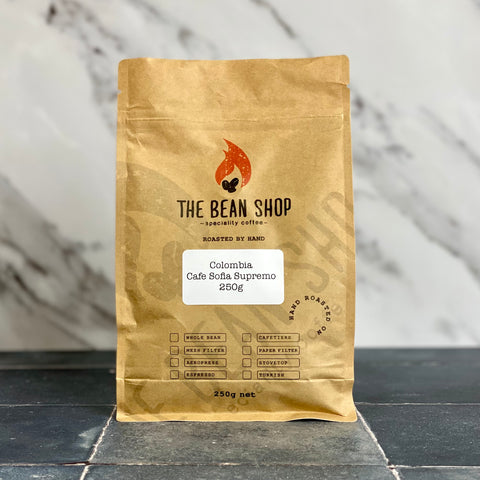 Colombia Cafe Sofia Supremo Coffee Beans
Medium Roast
gingerbread, apricot, honey
These large coffee beans are packed with delicious flavours of caramel, walnut and chocolate and has been likened to banoffee pie! The coffee has a buttery mouthfeel and a sweet, pleasing acidity.  Cafe Sofia Supremo makes a delicious espresso but is equally at home as a brewed coffee.
The Supremo coffee beans are collected from thirty small-scale producers in the areas of El Tigre, La Selva, Tribunas, Providencia and Patio Bonito. These are all located in the Belén de Umbría region of the Risaralda department in Colombia's western Andes mountain range. The municipality is located at 1500 meters above sea level, where the average temperature remains at a steady 20°C year.

Belén de Umbría ranks amongst the country's major coffee producing towns, coming in at the tenth position nationally in terms of volume. Farmers in the area typically own a 4 to 6 hectare farm, where they predominantly grow the Castillo variety. The producers wet-process their own cherries. Parchment is dried on patios or in driers, depending on the weather conditions.
Tasting and Cupping notes
Fragrance/Aroma gingerbread, milk chocolate, allspice
Acidity bright acidity
Body medium
Clean Cup yes
Crust sweet almond, fruity
Break earthy
Flavour tangy and bright
Roast Medium Roast