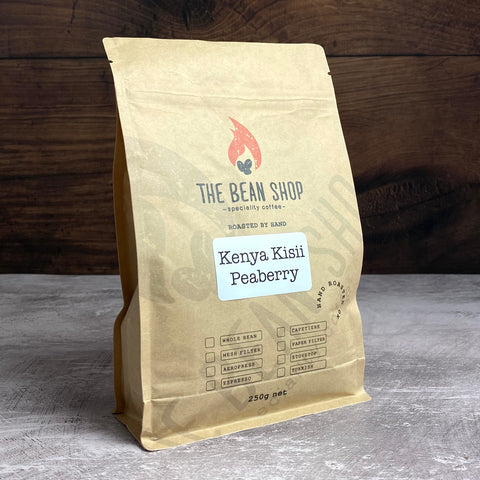 Kenya Kisii Estate Peaberry - Coffee Beans
Medium Roast
Kisii Estate produces outstanding coffee beans due to the high altitude and acidic soil it enjoys in the Kanguna district of the Kenyan highlands.  The coffee beans are of heirloom and typica variety which are wet processed to enhance the clean flavour and good acidity of the coffee.  The coffee has a floral aroma on grinding with a gentle effervescent acidity which develops into the prominent flavour of juicy blackcurrant and stone fruit.  The lasting impression is a caramel fruitiness on the finish.
In most coffee cherries there are two beans, but occasionally these are joined together and form a single round bean just like a pea. Peaberries can be sorted out from the other beans and, whilst they have all of the characteristics of our finest Kenyan coffee, they also have an added sweetness. The peaberry beans roast very evenly resulting in a fruity flavoured coffee with less acidity than normal Kenyan beans.
Light to medium roast.
Tasting and Cupping notes
Fragrance/Aroma caramel, maple syrup
Acidity low
Body medium-full
Crust spicy clove
Break amaretto
Flavour winey, chocolate, red fruit, berries
Roast Medium Roast