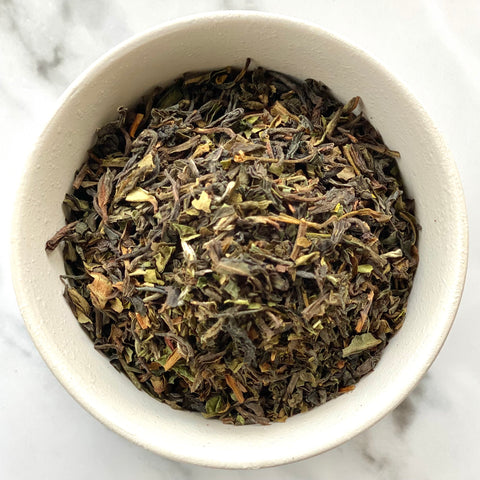 First Flush Darjeeling Marybong FTGFOP1- FF - Loose Tea
From the foothills of the Himalayas, the Darjeeling region is the most prestigious tea growing region in the world.  First Flush Darjeeling is known as the Champagne of teas because of its exquisite flavour.  The first flush refers to the first picking period between mid March and the end of May, when the spring rains stimulate new growth on the tea bushes, resulting in light bodied tea with intense aromas.
The Marybong Tea  Estate is situated in the East Valley.  This rather small garden produces top quality teas every year on a cultivated area of approx 285 hectares at altitudes between 1,200 and 1,970m.  This a well balanced aromatically sweet plucking featuring a certain body and some strength.  The leaves are smaller, fine and dark with green parts and bright tips.  The cup's colour is the typical light copper of a tea of the late first flush period.  It is grown without the use of any chemicals or pesticides.

Use 2-3g of tea for 150ml of water at 100c for a 2-4 minute infusion
Tasting and Cupping notes