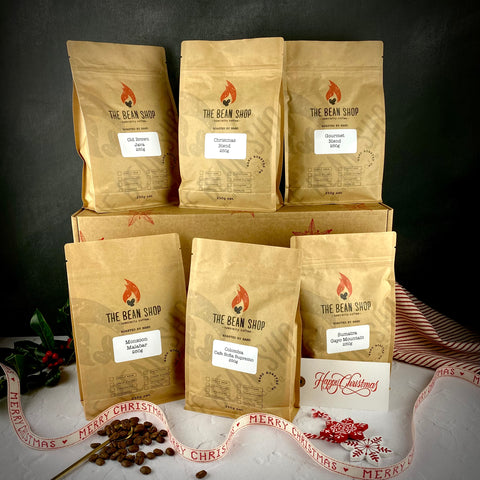 A Christmas Coffee Gift - The Favourites
Our Christmas Favourites gift pack.  The beans are all roasted to order for you and can be sent directly to your gift recipient.  We package your gift selection in a Christmas gift box with your message on a gift tag*.  The price includes delivery in the UK and the following coffees.
250g each of the following :
Christmas Blend - a well balanced coffee blend and has a full-bodied flavour with a hint of spiciness. It has a subdued acidity with sweet hazelnut notes and a mild vanilla-caramel finish.
Gourmet Blend - Our best-selling blend by far is a union of flavours from South American, Indian and Indonesian beans resulting in a very smooth, low acidity coffee which makes it very easy to drink at any time of day.  Gourmet Blend is a versatile coffee with a clean, mellow flavour and very little aftertaste which makes it suited to all brewing methods. 
Old Brown Java - Old Brown Java was traditionally used as ballast on sailing ships where the sea water gave the coffee a distinct flavour. Its mild acidity, heavy-bodied taste and sweetness is still attained through a weathering process and it takes two years to become 'Old Brown Java'

Monsoon Malabar - Monsoon Malabar is so called because the beans are exposed to the moist monsoon winds in the Indian state of Kerala for a few months. From June through September, the selected beans are exposed to moisture-laden monsoon winds in well ventilated warehouses.  The monsooning process involves careful handling, repeated spreading, raking and turning around at regular intervals. The beans absorb moisture and get significantly larger, turning a pale golden colour and take on a soft mellow flavour.  The coffee has distinct nutty and chocolate notes with a slightly spicy flavour and a clean finish.   A delicious and satisfying full bodied cup with low acidity.
Colombia - These large coffee beans are packed with delicious flavours of caramel, walnut and chocolate and has been likened to banoffee pie! The coffee has a buttery mouthfeel and a sweet, pleasing acidity.  Cafe Sofia Supremo makes a delicious espresso but is equally at home as a brewed coffee

Sumatra - Gayo Mountain coffee is grown in the Aceh province at the most northern point of Sumatra in the volcanic soil of the mountain basin around lake Tawar. Gayo Mountain coffee has been shade grown and processed meticulously then roasted medium-dark resulting in a sweet rounded flavour, rich velvety body with notes of chocolate.
*please write your gift message in the notes for order section
Tasting and Cupping notes