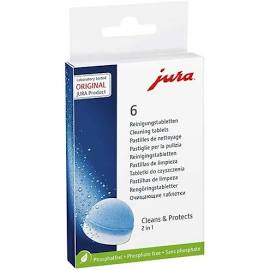 Jura Cleaning Tablets
For perfect coffee quality every time, it's important to care for your coffee machine correctly and follow some simple rules of hygiene when it comes to milk, coffee and water. To make the care of your machine as easy as possible, every JURA coffee machine has a maintenance-free brewing unit that cleans itself at the touch of a button.
Original JURA cleaning tablets, tried and tested millions of times over, are continually being optimised and improved by our laboratory team. The new 3-phase cleaning tablet is the innovative outcome of intensive research and now offers even better results, thanks to an additional protection phase that provides lasting protection against mineral deposits. Yet the tablets are still just as easy to use.
Tasting and Cupping notes