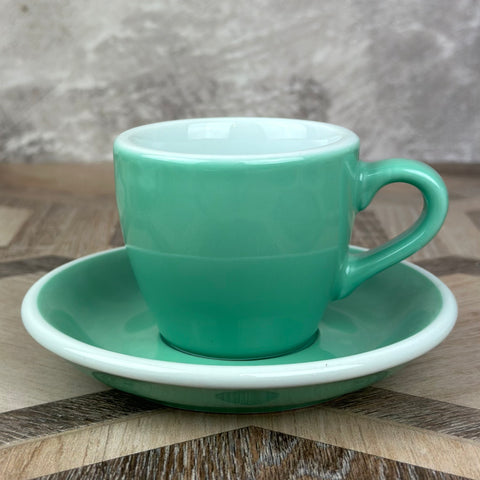 Loveramics Espresso Cup and Saucer Set
Loveramics Egg Espresso Cup 80ml and Matching Saucer.  
A curved open design the Loveramics Egg Espresso Cup is made by experienced craftsman with the finest quality materials. The porcelain is fired at 1300 degree Celsius which makes the Loveramics Egg Espresso Cup strong and durable and produces the distinctive brightly coloured, high-gloss finish. The rounded inside profile allows the fuller flavour of the coffee to develop. The thick walls of the Egg Espresso Cup is designed to retain the temperature of the coffee for longer.
A favourite with baristas globally the Egg coffee cup range are the World Latte Art Championship Official Cups. 
Loveramics Egg Espresso Cup Additional Info:
Restaurant Grade & Food Safe
Dishwasher / Microwave Safe
Diameter 6.5cm, Height 5.5cm
Capacity 80ml
Material: Porcelain
Tasting and Cupping notes