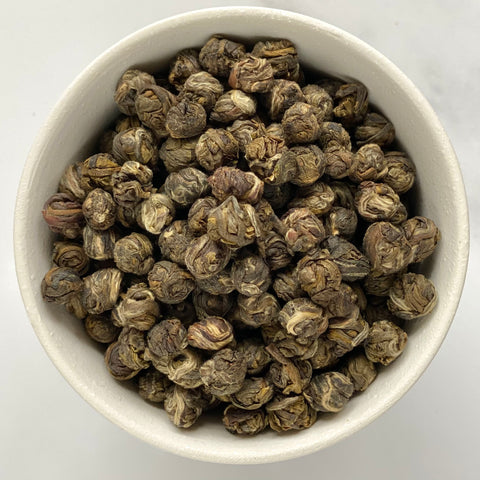 Jasmine Dragon Pearls - Loose Leaf Tea
Jasmine teas are produced in several provinces in China using traditional methods dating back 900 years. The tea 'pearl' is made from the finest, most tender green leaves and buds which are rolled tightly then infused with the essence of jasmine blossoms.  The jasmine blossoms are then removed leaving only the scented pearls.
During brewing the little pearls unfurl, releasing their heady aroma of jasmine flowers and colouring the water yellow-green.   The flavour is sweet, smooth, floral, refreshing and beautifully perfumed.  If you use a glass teapot you can enjoy the pearls unfurling, brewing and floating in the infusion.
use 2g of jasmine pearls per 225ml water at 87c for 3-4 minutes  
Tasting and Cupping notes