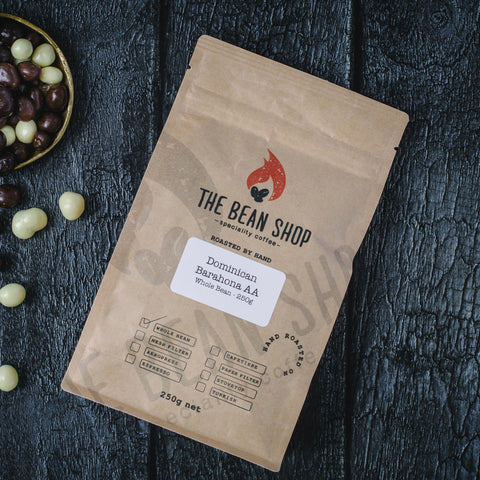 Dominican Republic Barahona Coffee Beans
Medium Dark Roast
complex, floral, chocolate
Barahona is a state and city in the Dominican Republic and the surrounding area is where most of the renowned coffee comes from. Barahona is widely considered to be the finest producing region, with the coffee grown at high altitudes and known for its rich flavour, heavier body and and good acidity.
Farms in the Dominican Republic are typically small, on average less than three hectares each, and much of the coffee is cultivated without the use of fertilisers or pesticides though many farms are not officially certified. The majority is also shade-grown, often under a canopy of pine, macadamia and guava trees.
Most Dominican producers process their coffee themselves in small wet mills. All coffee is wet-processed: cherries are de-pulped within 24 hours, naturally fermented, washed and dried in the sun.
A classic medium to dark roasted Dominican coffee with a stronger fuller bodied cup, a lot of complex darker flavours and some slight floral tones. Chocolate, tobacco earthiness, molasses are some of the first tones to hit the tongue and fade into a sweeter floral finish. 
Tasting and Cupping notes
Roast Medium Dark Roast