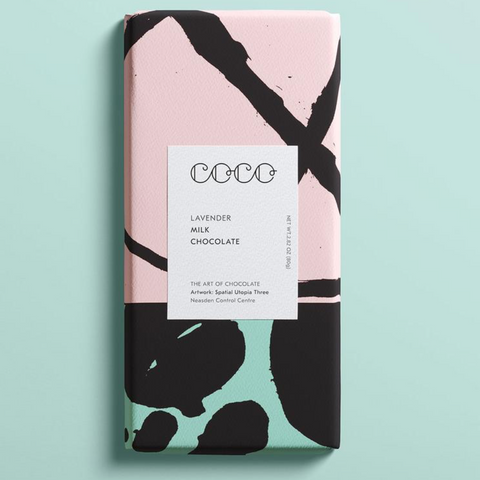 COCO Lavender Milk Chocolate
Is there a plant more calming than Lavender? Used in aromatherapy for hundreds of years it has a blissfully soothing effect on our state of mind. When combined with rich milk chocolate it transforms it into a dream-like snack worthy of the Gods themselves. 

Perfect for those who like subtle floral flavour in their chocolate. 40% milk chocolate.
80g - Vegetarian
Chocolate origin: Colombia
Artwork: Neasden Control Centre
Ingredients: Sugar, Cocoa Butter, Cocoa Mass, Milk Powder, Emulsifier: Non-GMO Soya Lecithin, Natural Vanilla Flavour, Lavender Oil (<1%). Allergens: milk, soya. No gluten containing ingredients.
Tasting and Cupping notes