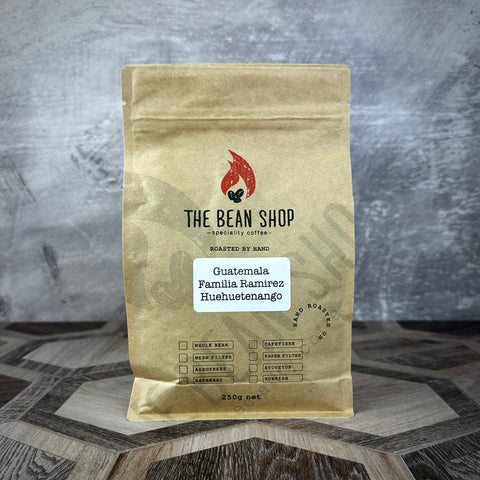 Guatemala Familia Ramirez - Coffee Beans
Light - Medium Roast
candied cherry, toffee, dark chocolate
This washed Bourbon lot, grown at 1,700 meters above sea level from Jacinto Ramirez features the bright, fruity and sweet flavours we love from Huehuetenango.
Jacinto Ramirez is a 4th generation coffee grower born and raised in Michicoy, a town in San Pedro Necta, Huehuetenango. His farm is part of a larger network of farms owned and operated by his relatives. Coffee is intercropped with chalum trees that provide shade for growing coffee. The chalum trees' falling leaves also provide a natural fertilizer. 
Cherry is selectively handpicked and pulped on the farm's drum pulper. Coffee is fermented in fermentation tanks for 30 hours and then washed in clean water. Wet parchment is laid on patios to sun dry. They rake parchment frequently to ensure even drying. It takes approximately 5 to 8 days for parchment to dry. Once dry, parchment is bagged and taken to a warehouse in Huehuetenango City where the low humidity is ideal for storing and resting parchment. Parchments rest for approximately 2 months before being milled and prepared for export.
Huehuetenango is well-known for its high altitude and consistent weather patterns. The region lies at a nexus of hot air sweeping eastwards from the Plains of Tehuantepec in Oaxaca, Mexico and cool air rushing down from the Cuchumantanes Mountains. The meeting of this hot and cold air creates a microclimate that keeps frost in check and enables coffee cultivation at higher altitudes: coffee production at 2,000 meters above sea level is common. These conditions are perfect for producing the sparkling acidity and distinctive fruit flavours of the region.  
Guatemala boasts a variety of growing regions and conditions that produce spectacular coffees. Today, the country is revered as a producer of some of the most flavourful and nuanced cups worldwide.
Tasting and Cupping notes
Roast Light - Medium Roast