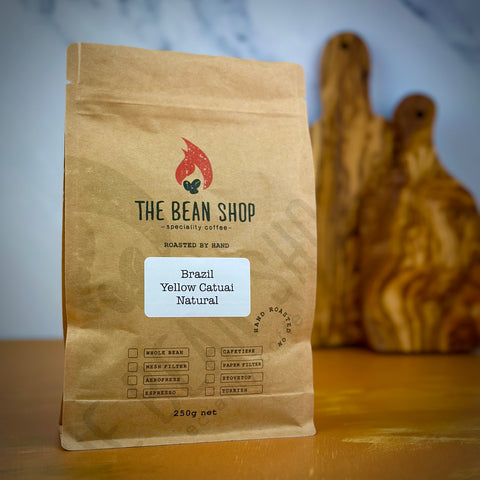 Brazil Fazenda Miaki - Yellow Catuai Natural
Medium Roast
This delightful coffee has a smooth body, a light berry acidity with a distinct caramel sweetness and flavours of milk chocolate in the finish.
The Japanese family Miaki started working with farms in the estate of Parana, Brazil. After the severe frost in the 1970's they decided to buy a piece of land in the Municipality Patrocínio Cerrado of Minas Gerais, and a few years later they sold the farm in the south and decided to stay just in Cerrado, one of the richest of all tropical savanna regions. They started working as coffee farmers in Cerrado in 1980, being the very first in the region, a volcanic area in the city of Patrocínio.
Yellow Catuaí is a dwarf hybrid of Mundo Novo and Caturra, which was crossbred in Brazil in 1949. Together with Red Catuai, it is a highly resistant cultivar suitable for growing in high altitudes and windy areas. Both Catuais have very refined and clean acidity.
Tasting and Cupping notes
Roast Medium Roast