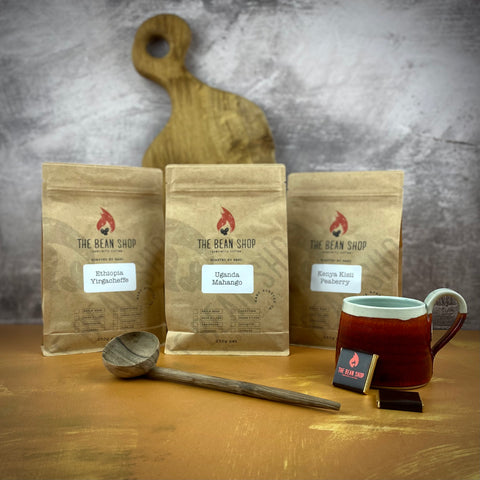 A Coffee Gift - Africas
The Africas coffee gift pack.  3 x 250g.  The beans are all roasted to order for you and can be sent directly to your gift recipient.  We package your gift selection in a gift box with your message on a gift tag*.  The price includes delivery in the UK and the following coffees.


250g each of the following :

Kenya Kisii Peaberry - Kisii Estate produces outstanding coffee beans due to the high altitude and acidic soil it enjoys in the Kanguna district of the Kenyan highlands.  The coffee beans are of heirloom and typica variety which are wet processed to enhance the clean flavour and good acidity of the coffee.  The coffee has a floral aroma on grinding with a gentle effervescent acidity which develops into the prominent flavour of juicy blackcurrant and stone fruit.  The lasting impression is a caramel fruitiness on the finish.

Ethiopia Sidamo Amaro Gayo - This is a beautiful example of natural processed Ethiopian coffee at its best.  From the Sidamo region, this coffee has intense fruity flavours of strawberry, blackberry and blueberry, sweet notes of fig, a complex aroma with nuanced florals, a creamy body with a complex acidity and excellent balance. 

Uganda Rwenzori Kyondo - A tropical, juicy, clean and well balanced coffee from Uganda with a caramelised pineapple finish. The Rwanzori mountains are home to around 600 smallholder farms which produce exceptional arabica coffee in a country renowned for the more commercially produced robusta bean.


 
*please write your gift message in the notes for order section
Tasting and Cupping notes